Leather Women's Handbag Purses Trends 2022
New bags come out every year, so you follow the trend and buy many bags, but every time you go out, you still feel that there is a lack of just the right handbag. If you also have such troubles, perhaps you should consider preparing several classic and versatile styles.

What is a classic versatile style? Generally speaking, their colors are low-key, such as black, white, and gray. Of course, the brown series of bags are also not easy to make mistakes. They should be simple in shape and do not need too much decoration and color to go well with your clothes. If you find a bag suitable for using at work, dating, or going out to parties, this is the one you need.

If you still don't know how to choose a handbag, then read through this article, as I'll show you a collection of classic, versatile bags straight to the point.
1-Womens Leather Tote Bag Handbags Shoulder Bag for Women
This is a classic, timeless handmade tote bag made of cowhide with a clean appearance, some rich textures on the surface, and the isolated grain texture on the back of the cowhide inside. This design makes The bag is not only simple but also beautiful. The shoulder strap is designed with adjustable length, and this is a rare detail of a single-shoulder tote bag.
The top of the handbag has a zipper design, and the interior has compartments for easy sorting and storage--an internal zipped pocket, two slip pockets, and a zipper pocket on the back.
This bag is 29cm wide, 34cm high, and 10cm thick, and can hold tablets, magazines, and personal items such as your mobile phone and wallet. Choose it. You can match most clothes for work and go shopping.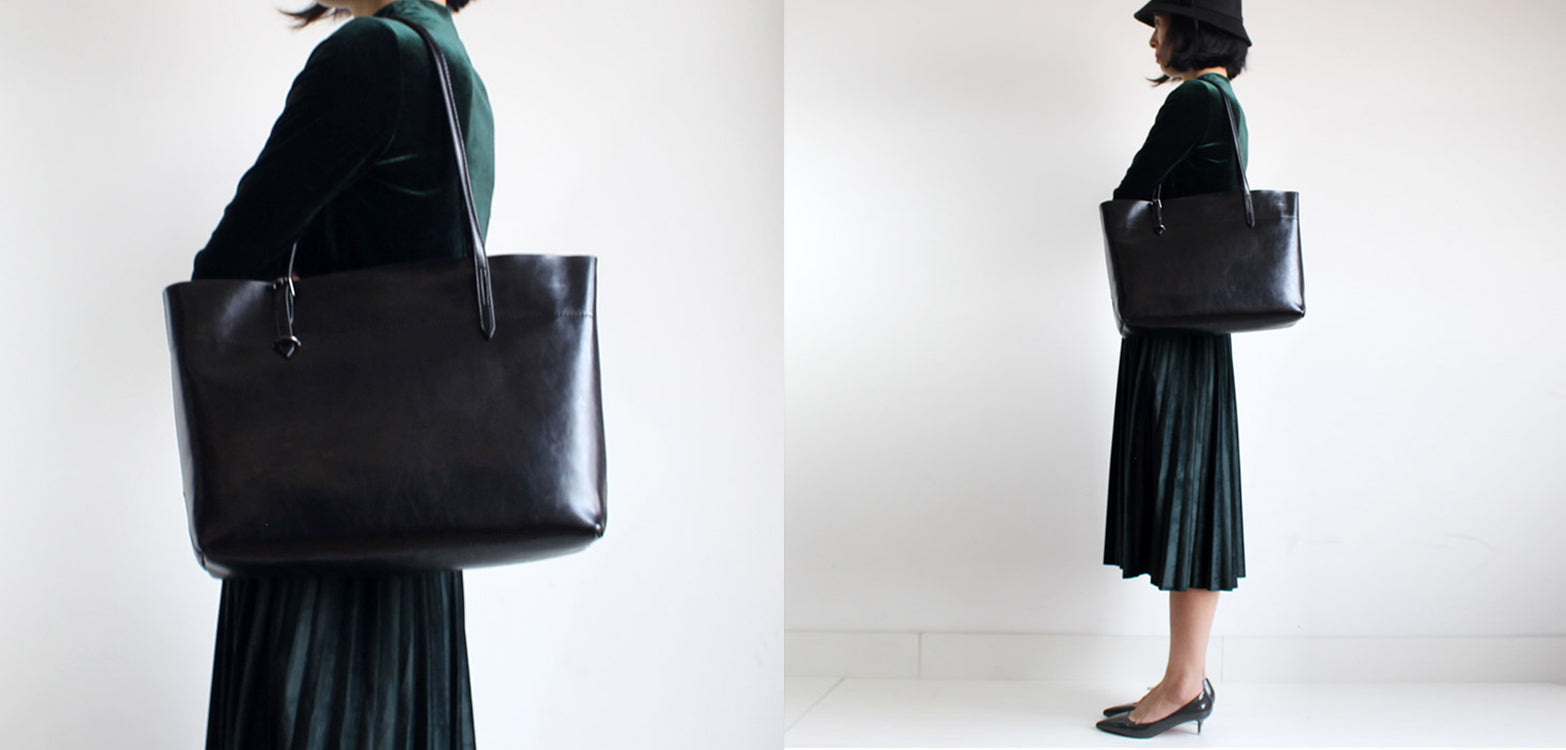 2-Vintga Leather Womens Tote Handbags Shoulder Tote Purse for Women
If you are not used to this vertical bag, but you still need enough capacity to hold your belongings, you can consider this horizontal tote bag, and its size is 36cm wide and 27cm high, 10cm thick.
Same material and artistry as the last one, but because of the shallower depth, it's easier to reach, and I know some people even use it to hold towels and tracksuits when they go to the gym after getting off work. This tote handbag can keep your tablet and phone as well as your everyday items.
Imagine a grey or black handbag, perfect with a white sweatshirt and sneakers, or your dark work uniform and leather shoes.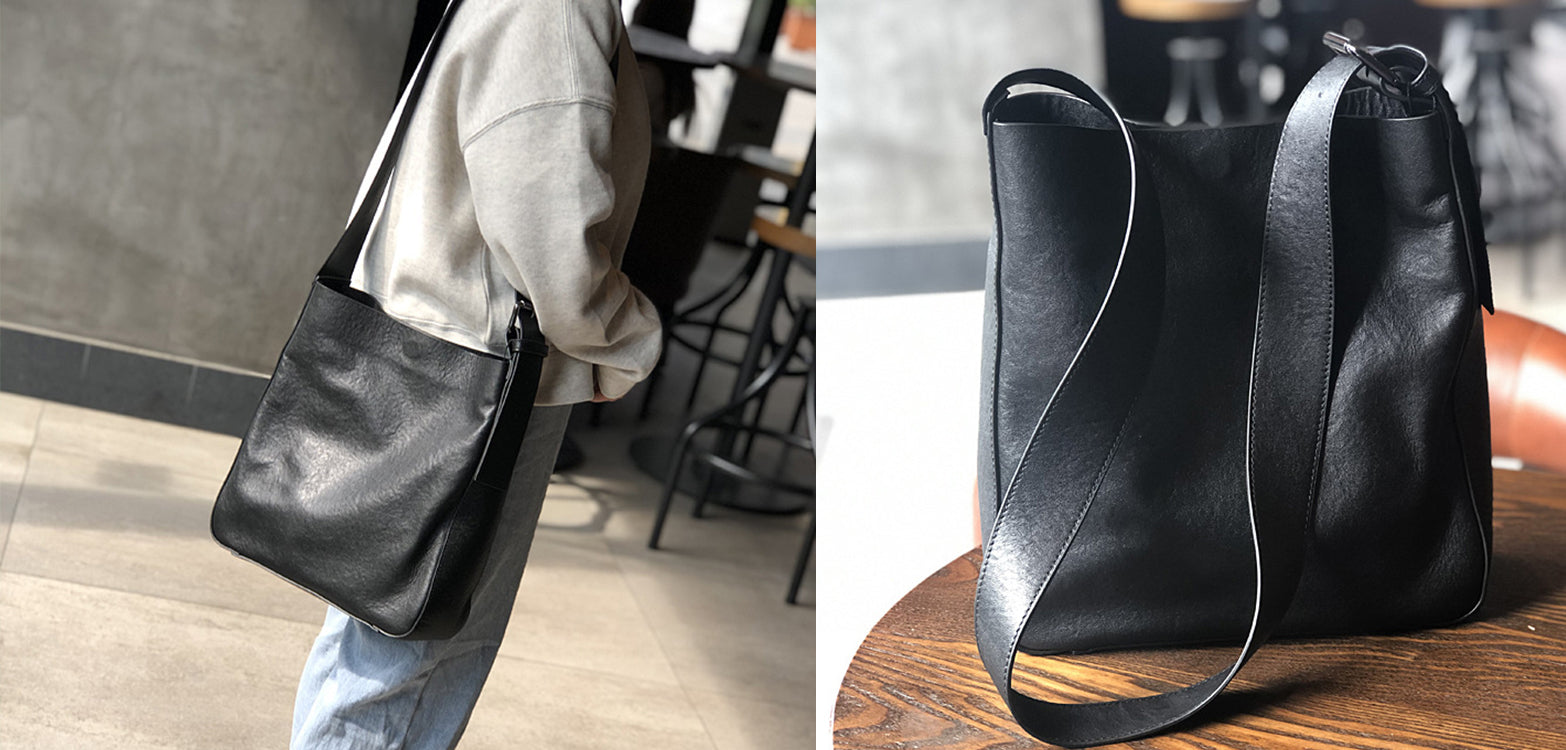 3-Stylish Womens Leather Tote Bag Black Leather Shoulder Bag For Women
Without too many pockets, without complicated decoration, just make the shoulder strap wider and adopt a more straightforward magnetic buckle opening design, then this is a classic and stylish tote bag.
You can adjust the shoulder strap length to switch the way of use, and it can be a shoulder bag or a crossbody bag. Whichever it is,its soft leather texture can match with most clothes in your wardrobe.
Its size is 28cm(L)×10.5cm(W)×30cm(H), with a detachable storage bag inside. If you want the bag to be refined and simple, you can remove the inner bag; If you need the inner pocket to help you do more zoning, keep the internal pocket. Want the most straightforward design and require more matching possibilities? Choose this one.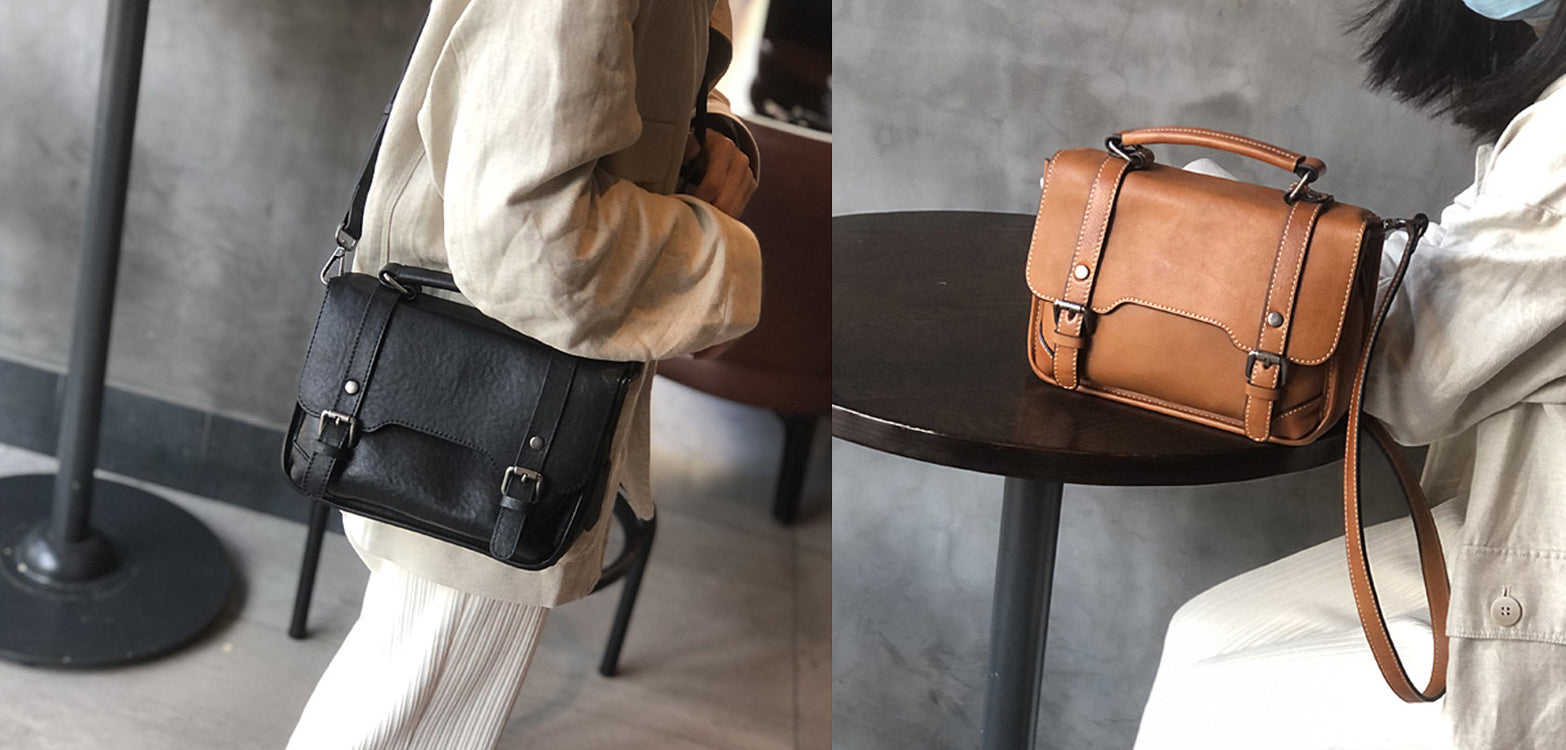 4-Small Women Black Leather Satchel Bags Shoulder Handbags
If you are not a fan of extreme minimalism and need a little more detail, you can try this women's messenger bag. The three colors of this bag are all classic colors, black, coffee, and a more lively brown.
With the ingeniously conceived by the designer, this messenger handbag has the belt-style symmetrical buckle, the unique cut of the flap shape, and the cowhide texture deliberately exposed on the reverse side so that this messenger bag has its characteristics.
The size of this portable messenger bag is 24cm (L) × 8cm (W) × 18cm (H). It is rich in layers, with one internal zipped pocket and one insert pocket, as well as a larger snap front pocket and a zipper back pocket, which can store your various small belongings.



5-Womens Black Shoulder Handbags Crossbody Tote For Women
If you need a small and more flexible handbag, this bag can change the way of carrying it according to different occasions, which is more in line with your needs.
It is also a leather handmade bag, which looks like a messenger bag, but is more fashionable than a messenger bag. Its long shoulder strap is removable and adjustable, so you can carry the bag as a handbag, shoulder bag, or casual crossbody bag. The size of the bag is 25cm (L) x 8cm (W) x 18cm (H), and there is a slip pocket inside.
The outside of the bag has a belt-like decorative design, which makes the bag even more remarkable because it's classic and stylish, so whether you want to wear a skirt or jeans, you can't go wrong with this handbag.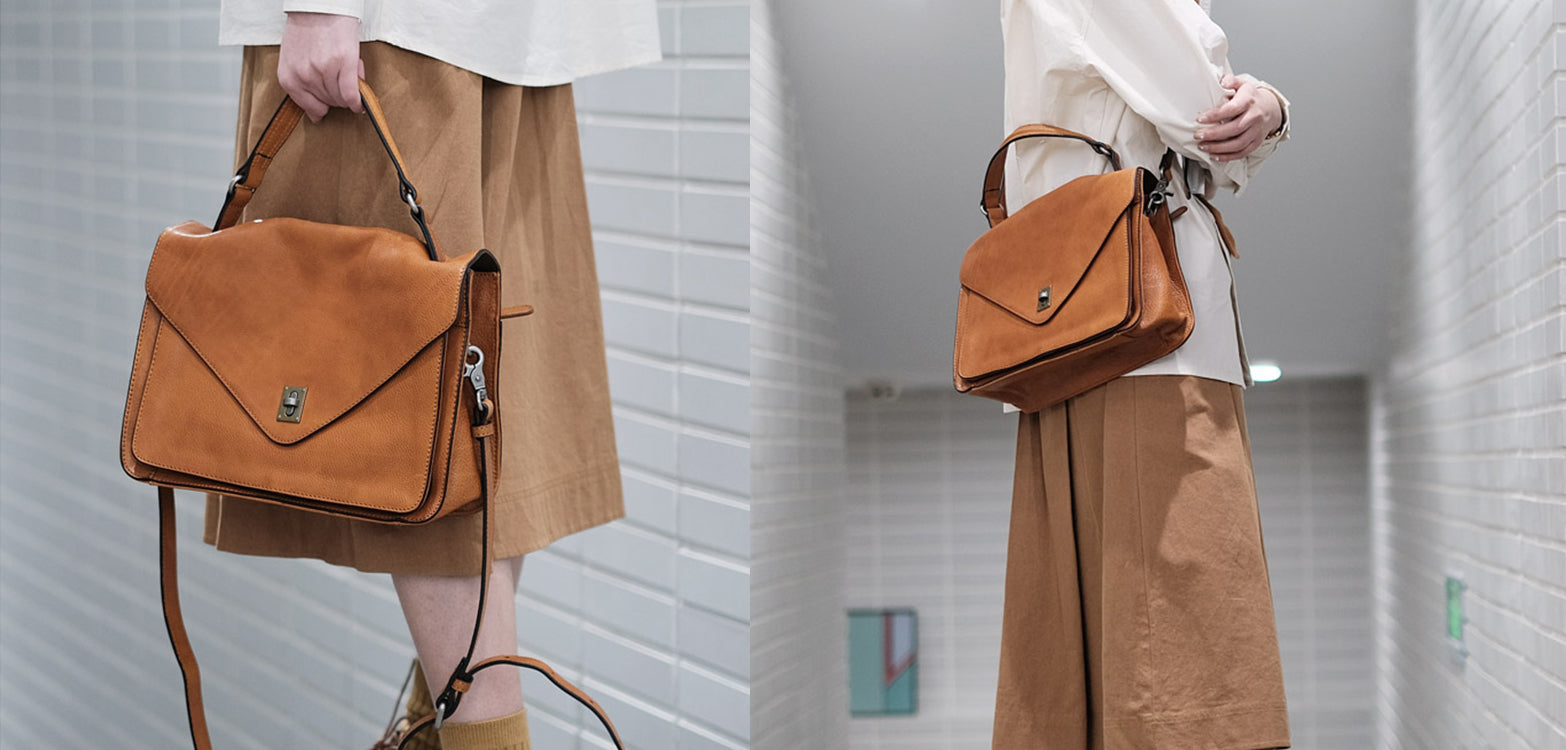 6- Stylish Womens Brown Leather Satchels Leather Messenger Bag For Women
The first impression this cowhide handbag gives you should be retro. You can imagine how full of literary atmosphere looks when you put on your new coat or handsome windbreaker with this messenger bag. So, whether you are a student or an office worker, this bag is suitable for you.
Its size is: 29cm (L)×21cm(W)×11cm(H). It has one main pocket and one front pocket for various small carry-on items.
It is also possible to carry it by hand or on one shoulder because it has a handle on the top, and the shoulder straps can be removed and adjusted.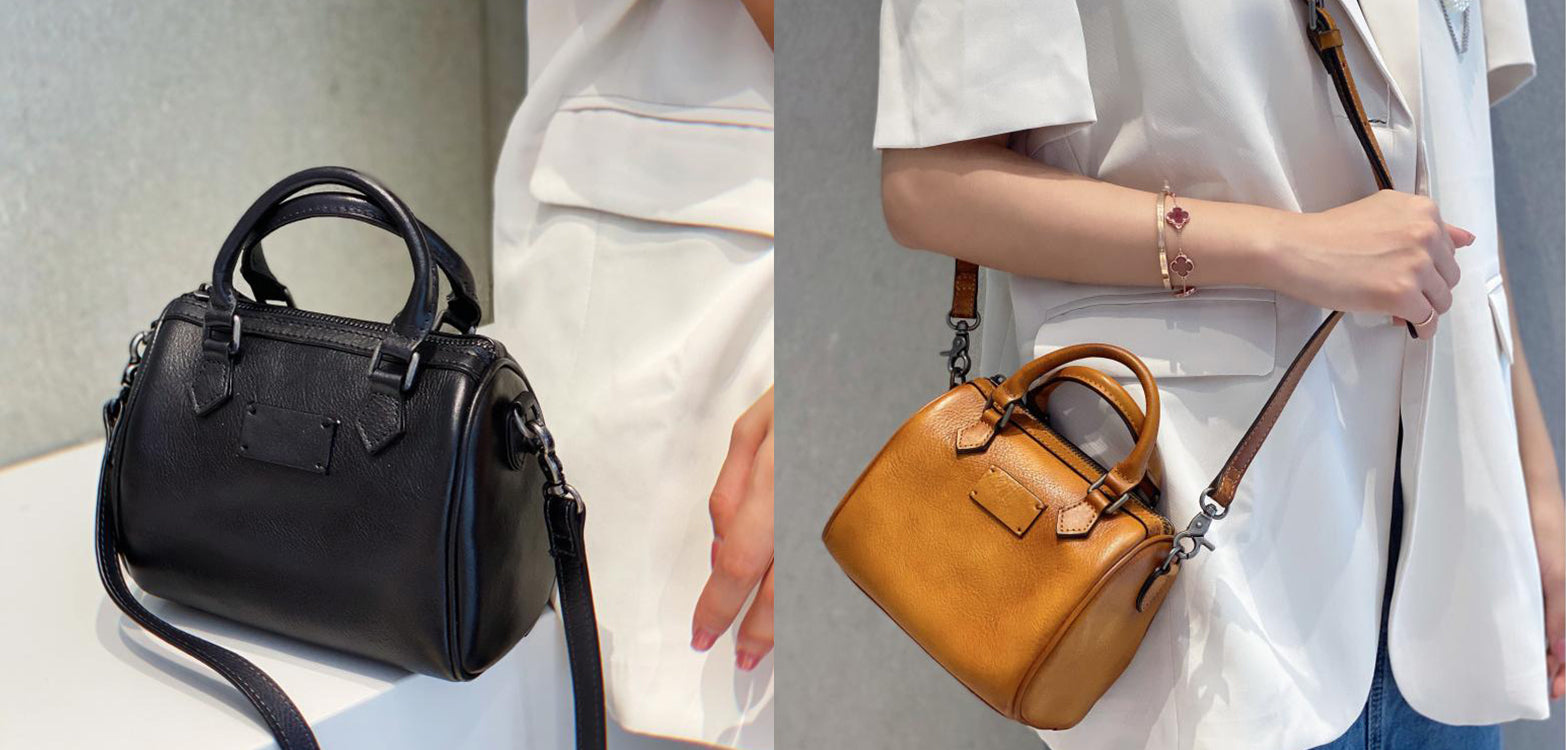 7-Mini Leather Shoulder Handbag Purse Leather Crossbody Purse
With the change of seasons, you may feel that you need a smaller bag in spring or summer, so small that you only need to hold a mobile phone, a card, some change, and keys. Then this cute and a little cool mini bag is more suitable for you.
Its size is 7cm(L)×8cm(W)×15cm(H). There is one main pocket one inner zipper pocket.
It has the shape of a Boston bag, and some people like to call it a pillow bag. In any case, its shape design makes it versatile.
Choose a black, brown, or coffee color, and you can't go wrong with a lady's skirt or casual jeans. Grab this one if you don't know what kind of small bag to choose.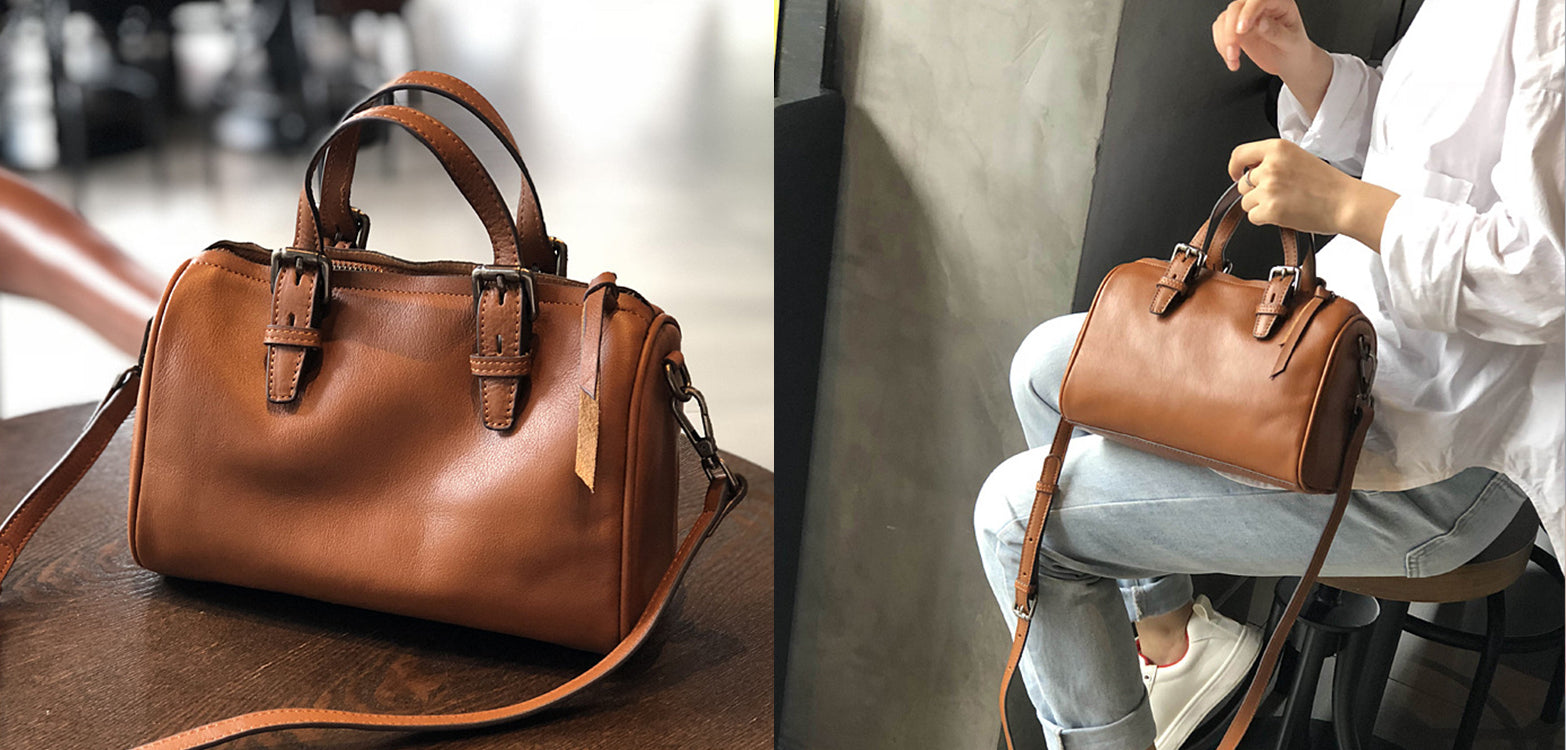 8-Womens Leather Trending Handbags Boston Bag Cross Shoulder Bag For Women
This is also a Boston handbag or a pillow bag. Compared with the previous one, it has a softer leather and a slightly larger size: 23cm (L)×11cm(W)×17cm(H). The inside of the bag has a slip pocket and a zippered pocket, just enough to store all your belongings easily.
The top strap of the handbag is designed with a belt buckle. So these fantastic elements can be matched with your casual wear, whether it is a loose shirt or denim pants. The handbag is also a shoulder bag, and a detachable shoulder strap makes it easy to double-use your bag.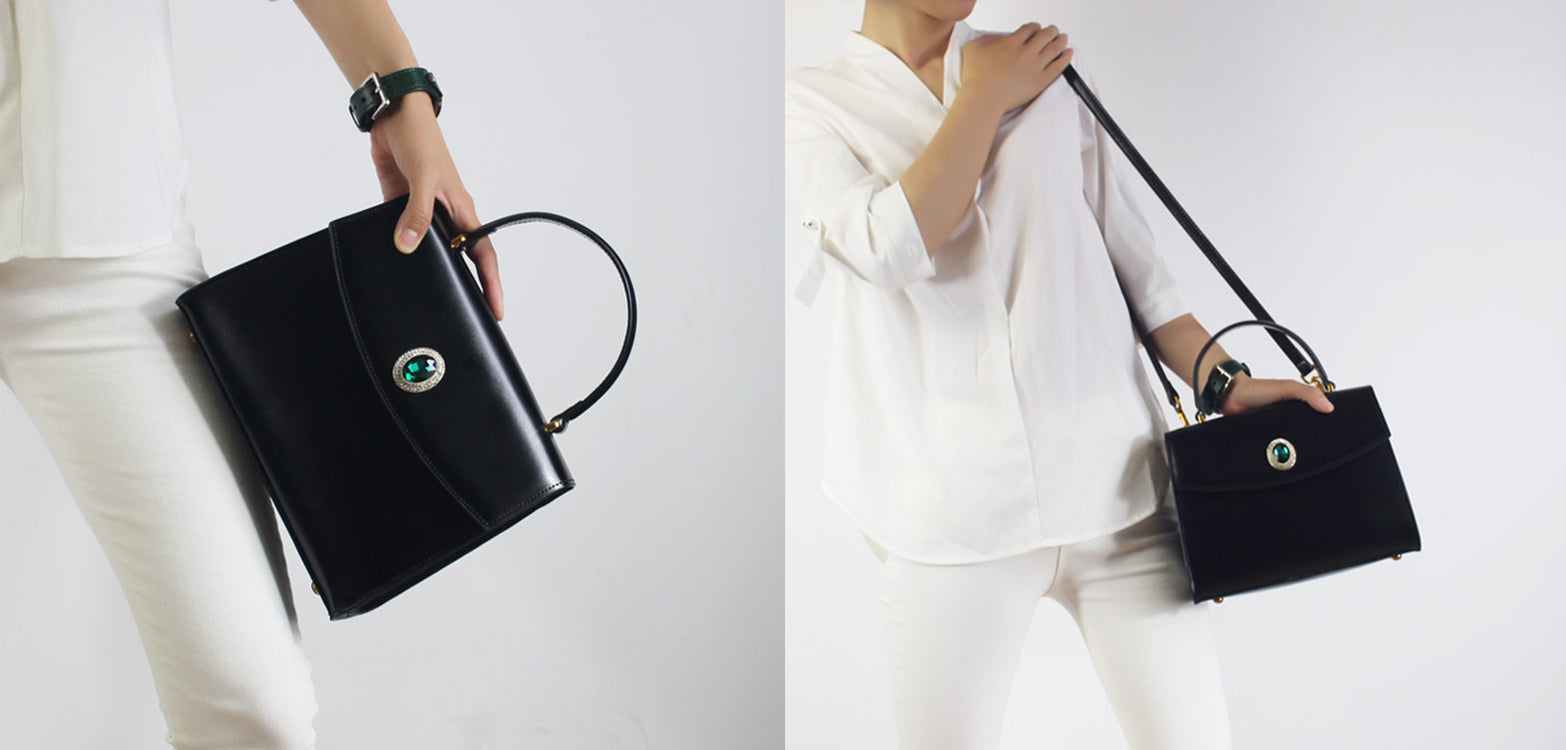 9-Stylish Womens Black Shoulder Handbag Designer Crossbody Bag For Women
If a woman's clothes are primarily intellectual and elegant, she often attends formal occasions, and she needs a bag to appear at a dinner party. Then I recommend this one, it is mysterious black, it has a 【crisp】 shape, there is a handle on the top of the bag, and it is also has a shoulder strap so that it can be carried by hand or over shoulder.
The size of the handbag is 25cm (L) × 10cm (W) × 20cm (H), the classic design of the flip cover is more stable, and the emerald green artificial crystal-embellished brings out the elegance.
The classic shape and versatile black design make this bag a good choice whether you use it yourself or give it to a lady as a gift.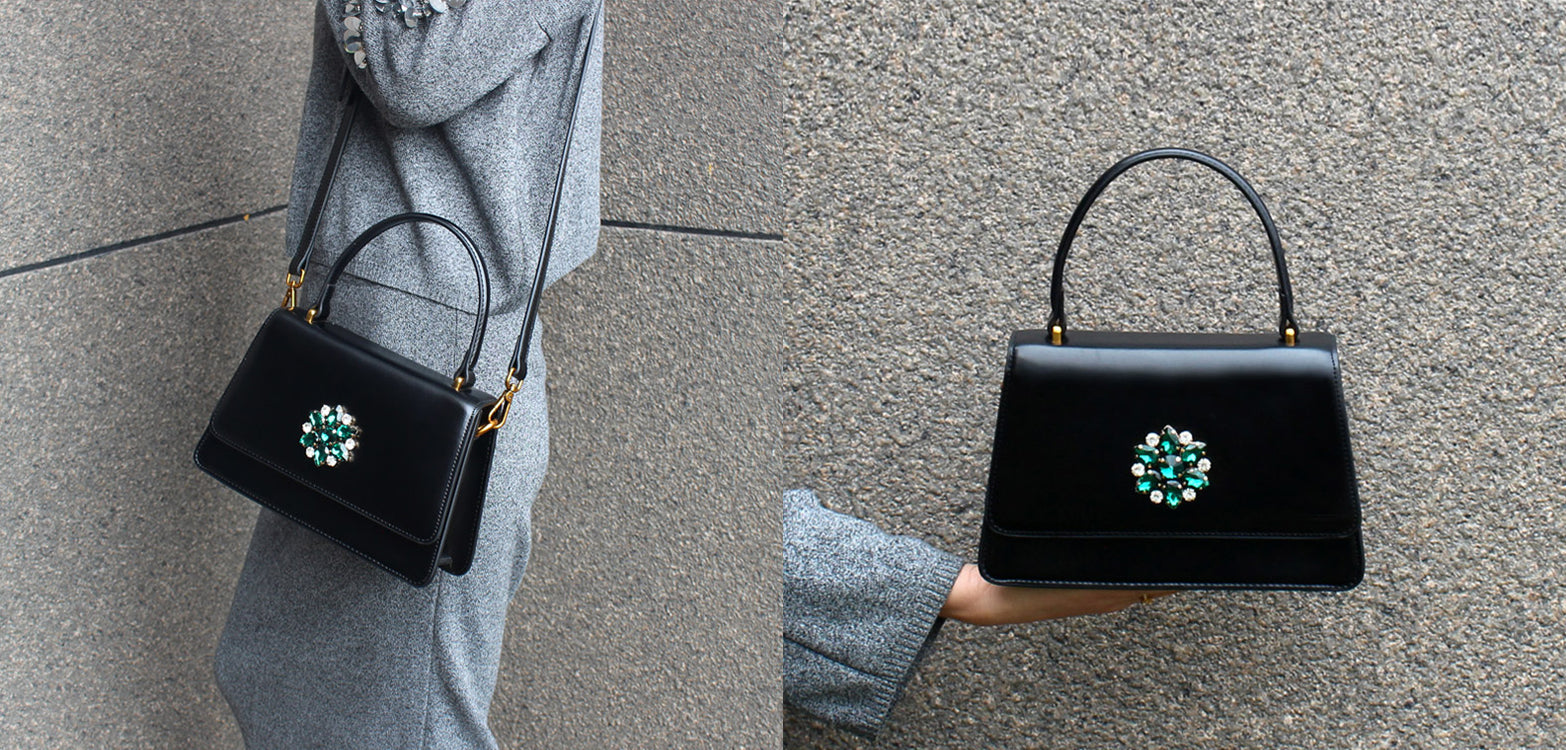 10-Chic Womens Black Shoulder Handbags Small Leather Crossbody Bag For Women
Like elegant and crisp styling, but want a younger look? This one may be the best choice.
Overall, its size is more compact, the size is 24.5cm (L) × 8cm (W) × 16cm (H), the hand strap at the top is semi-circular, and the length is longer, in contrast to the straight lines of the bag body, the shape appears more lively.
The same flip cover design, but the difference is that the artificial crystal pattern on the flip surface is more abundant, which is more suitable for young women.
It also comes with a shoulder strap that can be removed or adjusted in length, so it's not just a handbag when you use it and also can be turned into a shoulder bag or a crossbody bag.
Give it to yourself as a gift, it can go with almost all of your professional outfits, and it can also accompany you to various banquet events.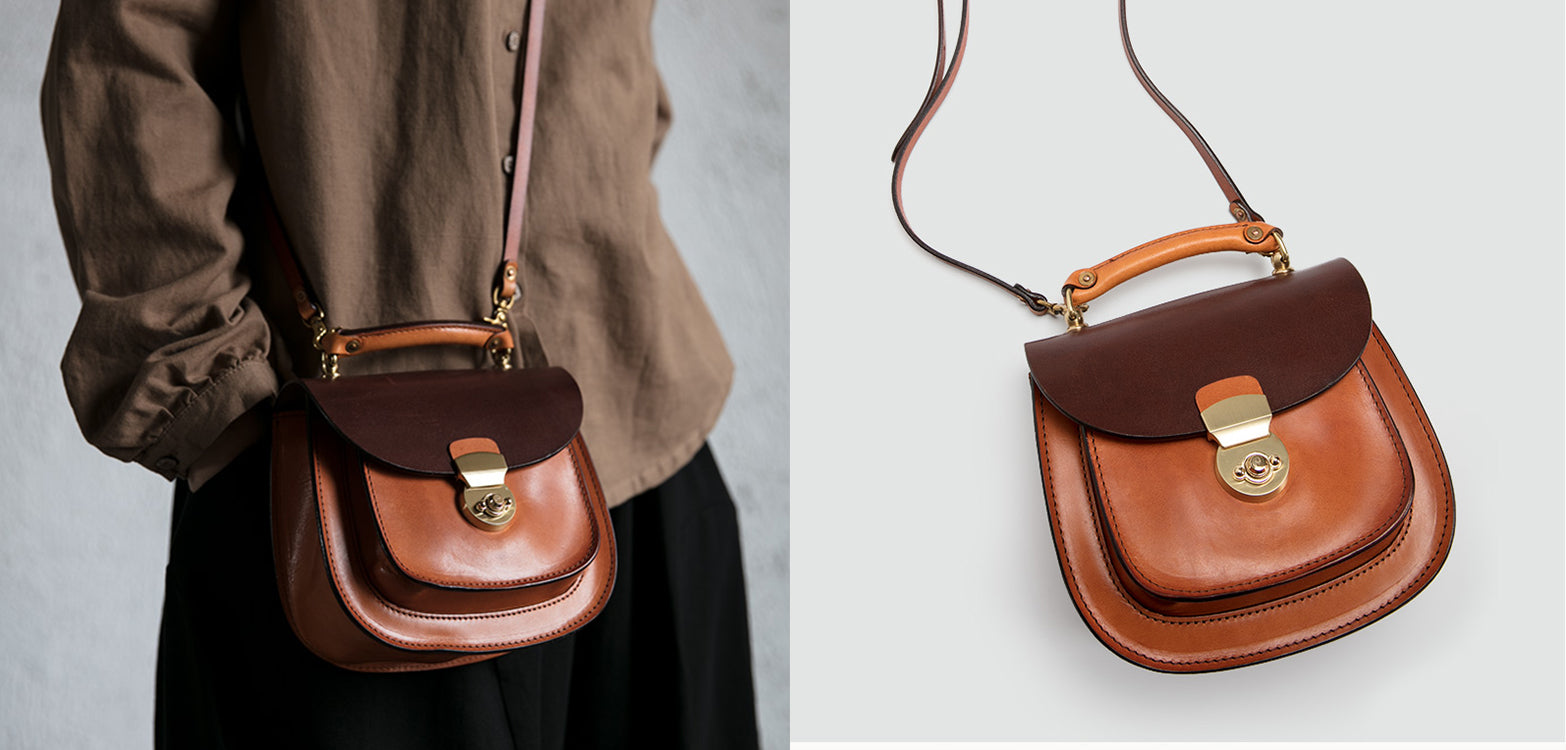 11-Womens Leather Small Crossbody Handbags Bags Purse for Women
The saddlebag was once all the rage. Its classic all-match is because its lines include straight lines and arcs, which can be gentle or cool. If you don't know how to match, try the classic style, which is inclusive and not easy to make mistakes.
Its size is 17cm (L) × 8.5cm (W) × 16cm (H). It has two pockets, the main pocket, and the front pocket. The top handle is linked with cowhide and hardware with rivets. So it looks like more texture.
The handbag is made of top layer cowhide, black and brown are monochrome leather, which is more low-key. However, the brown one uses a coffee-colored flip cover, which contrasts with the brown of the body of the bag. More bright and with a more retro feel.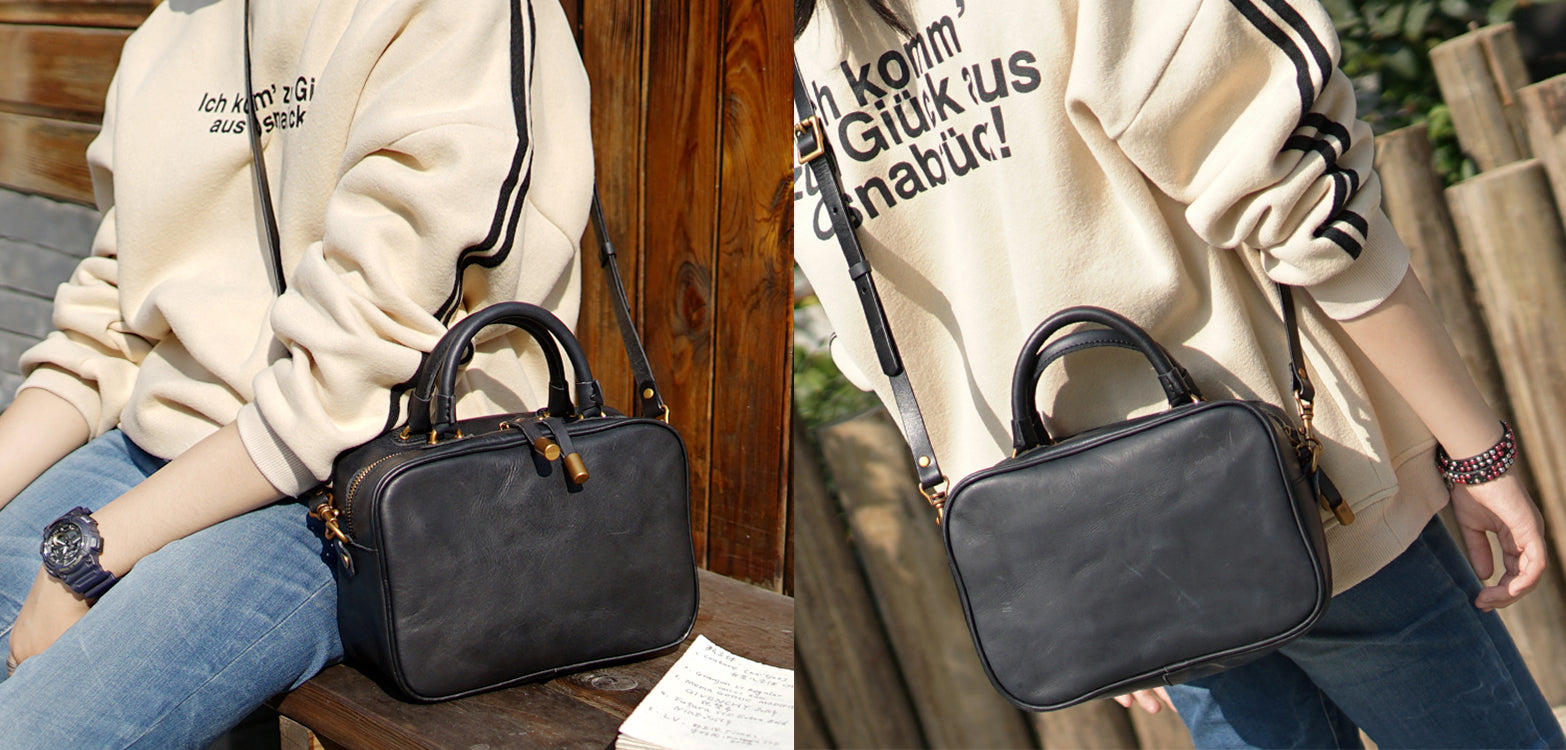 12-Small Cube Bag Leather Handbags for Ladies Crossbody Purse for Women
This is a horizontal square bag. The vintage lines and the texture of the first layer of cowhide look very handsome. You can carry it on campus or the street, or you can use it as an embellishment behind you when riding a motorcycle with sunglasses.
The bag has a hand strap on the top and a detachable shoulder strap on the side, which can be carried by hand or shoulder.The size of the handbag is 24cm (L)×9cm(W)×17cm(H), which can easily accommodate the small daily items.
The top zipper opening and closing method are more convenient than the flip bag. So this main pocket has a double zipper which is decorated with brass-colored metal at the end. An embellishment of heavy metal elements makes the handbag look more textured.



13-Women's Leather Satchel Over the Shoulder Bag Handbags Purse for Women
Briefcases are very convenient storage bags for the workplace. Still, usually, the briefcases we encounter are men's models, which are large and heavy, and women will be very trying to carry and difficult to match.
But this handbag combines the advantages of the briefcase's large capacity with the ladies' bag's intellectual beauty. Its size is 26.5cm (L)×9cm(W)×35.5cm(H).
Neat shape with wide bottom and the narrow top are more refined so that women will not feel so bulky when carrying it. The flap design and the top bag make the bag more elegant to wear. If you happen to have a silk scarf at home, you can tie it on the bag at will to add a feminine touch.
If you're out and need to carry documents or a tablet, this handbag is easy to handle, comes in a classic black or brown, and they'll go with just about any work outfit in your wardrobe.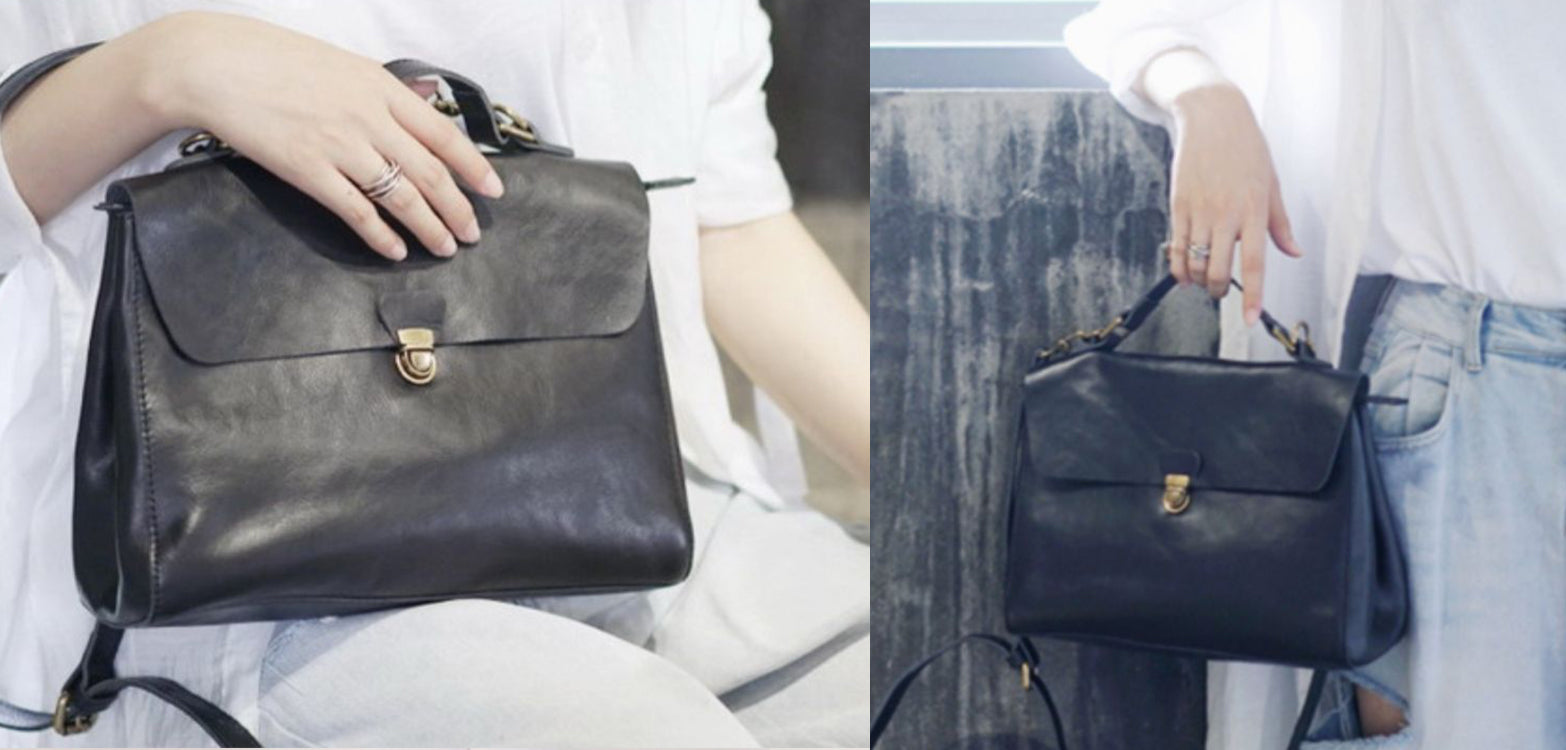 14- Womens Leather Satchel Bag Leather Crossbody Bag Purse for Women
Want a smaller briefcase? That is this handbag. The whole bag is made of top-layer cowhide, with a unique soft feel, making you look less cold and inaccessible in the workplace. There is some freedom and ease instability, and the zipper under the flip cover can better protect your belongings.
Its size is 22 cm x 28-30 cm x 9 cm, and it can fit your iPad, umbrella, wallet, keys, and other personal items.
The handbag has two straps, the short strap can be carried by hand, and the long detachable strap can be worn on one shoulder.
Black and brown are versatile; pale yellow and gray are gentle and elegant. Choose the color that suits you according to your temperament. Whether commuting or casual, this bag can match your clothes.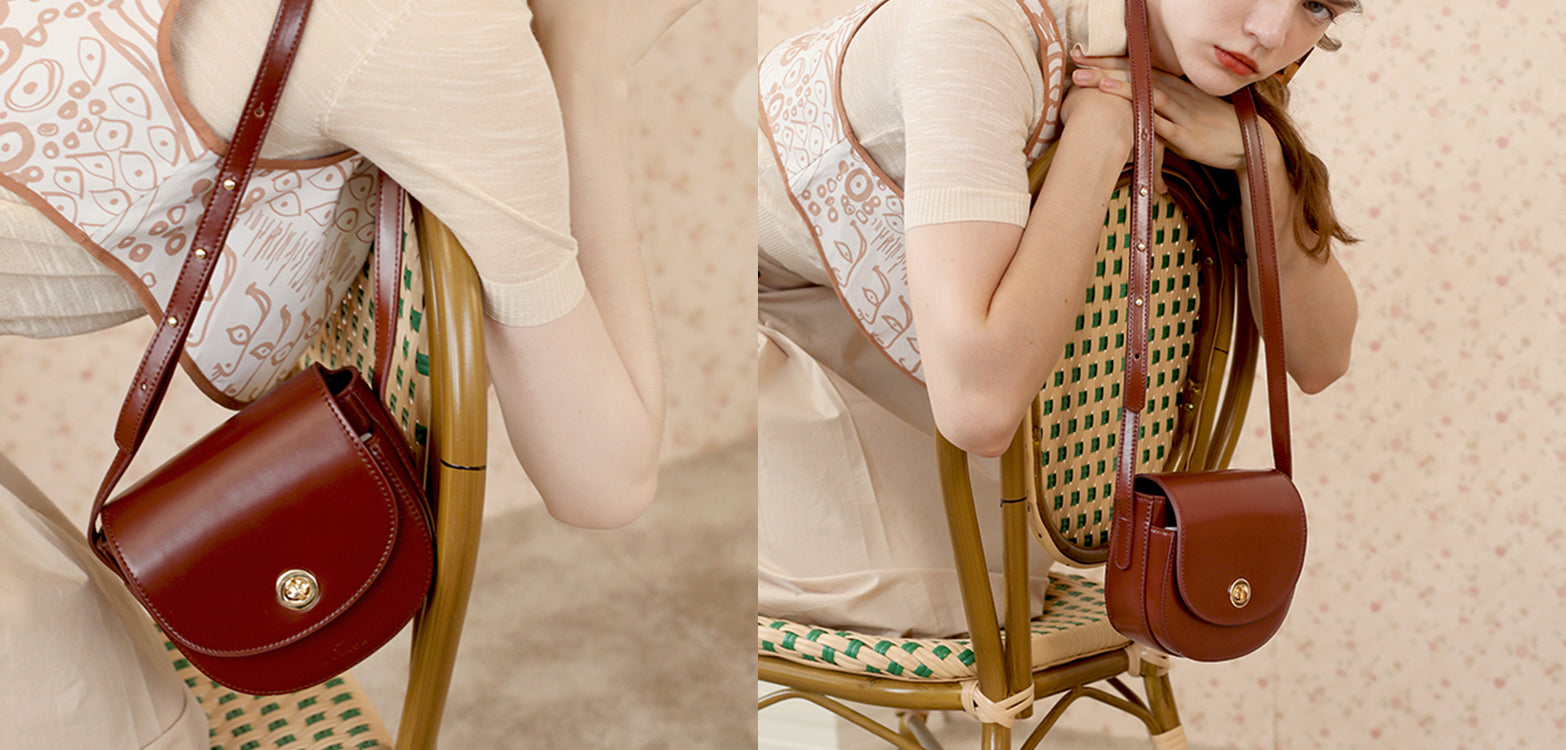 15-Womens Red Brown Leather Crossbody Saddle Bag Over The Shoulder Purse for Women
Already have a lot of black bags at home and want to make some color changes? Then try this small reddish-brown saddlebag.The small size is more suitable for young ladies, and the semi-arc line makes the whole bag feel lovely.
The slightly reddish-brown is different from the familiar brown, and its color will give people a different feeling with the change of indoor and outdoor light. The white light reveals a warm deep red, and the golden sunlight is attached with a brown color.
This bag is shaped in crisp leather, and even a cute little bag has its aura when paired with a variety of clothing styles.
The size of the bag is 15cm (L) × 7cm (W) × 17cm (H). In addition to the main pocket, there is also a front pocket, which can realize small items' classification and storage function.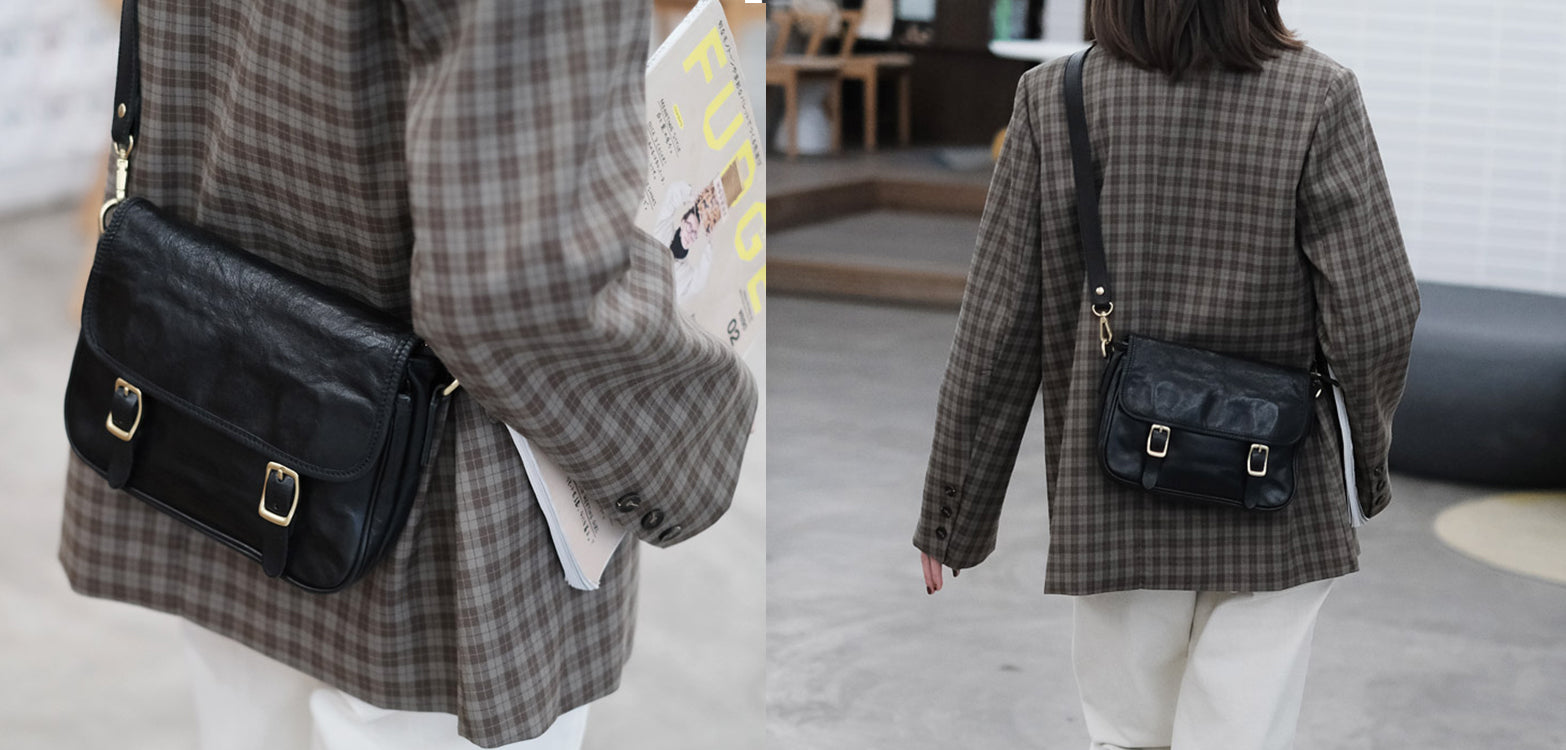 16-Cool Ladies Over The Shoulder Bag Women's Satchel Bag
Want more breakthroughs in texture? Try this crossbody bag with a textured leather finish.
The folds give life to the leather, making the bag look no longer just a storage tool but a work of art with a story. It makes you can't wait to meet its owner or listen to its story. If you are such a lady, please choose it.
Because of its unique craftsmanship, it has a broader range of applications, not only for commuting to get off work but also for leisure time and meeting with friends. They may be impressed by the understated and unique fabric of your bag. Its size is 23cm (L) × 6cm (W) × 17cm (H). In addition to the versatile black, it also has brown ones.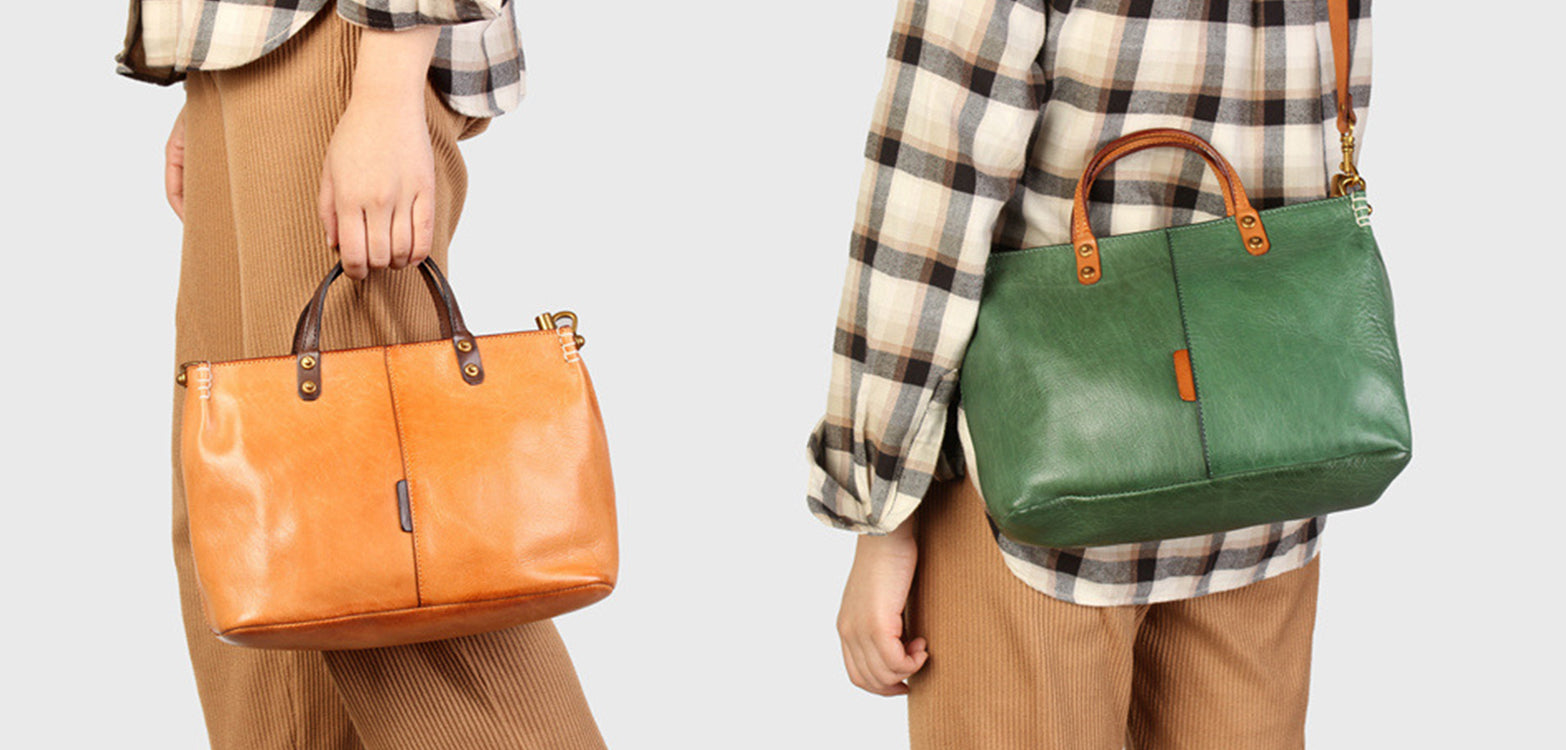 17-Womens Vintage Leather Handbags Over The Shoulder Purse For Women
Suppose a bag available in the workplace adds retroelements, in that case, this handmade genuine leather handbag will make you look more calm and trustworthy, and it can also match more of your clothes styles, such as forest cotton linen clothes or a western-style with a more heavy metal texture.
The two essential features of this handbag are the hand-dyed and stitched craftsmanship and the shiny brass hardware, which makes you impressed. It is also reassuring for the lady of the parties to hand things over to her.
The handbag's size is 29cm(L)×12cm(W)×26cm(H), with a zipper on the top, a zipper pocket and two slip pockets inside, and a zipper pocket on the back. The interior space can accommodate small items such as an iPad, mobile phone, folding umbrella, and keys.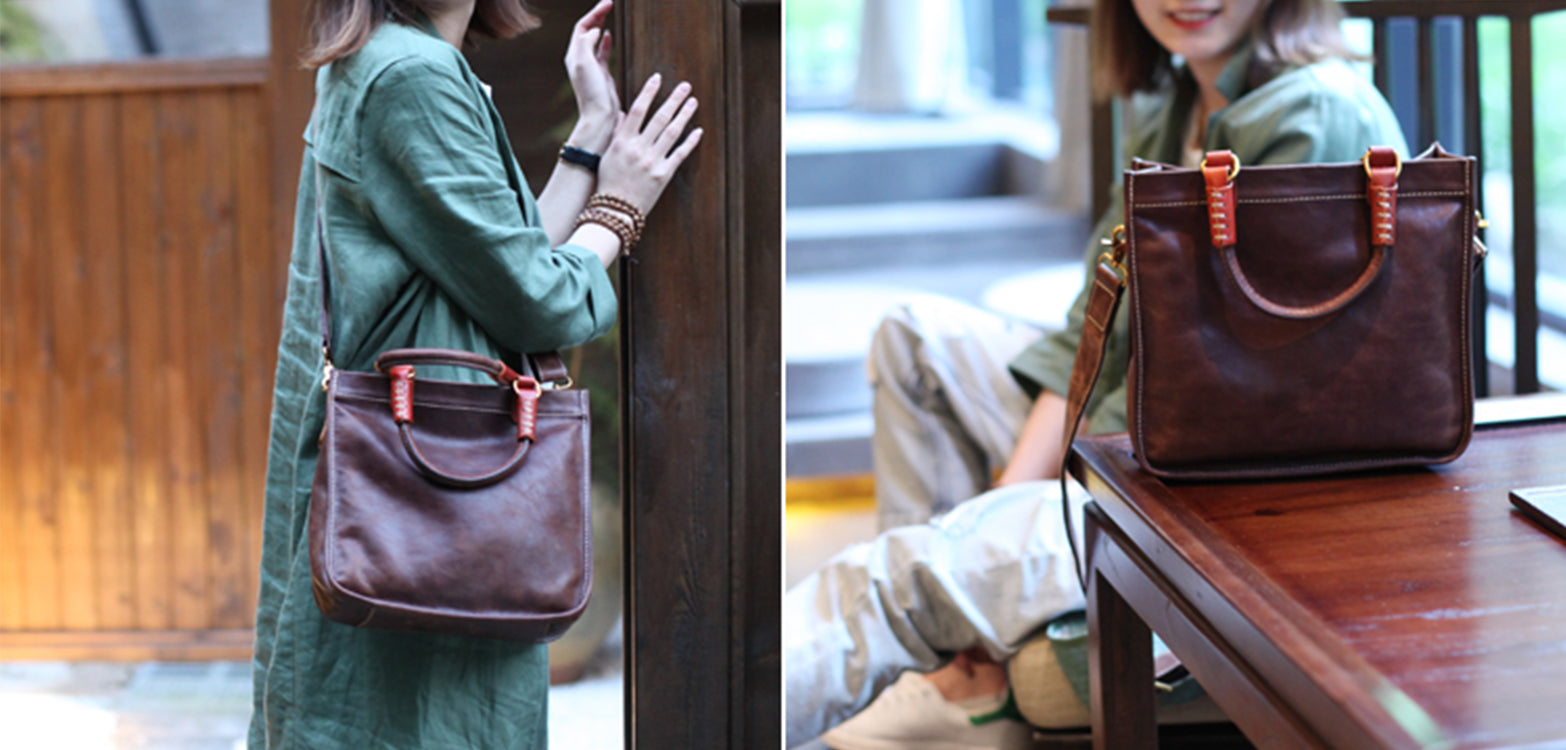 18-Small Womens Leather Crossbody Tote Bags Purse Handbags With Zipper for Women
A vintage small tote handbag is also very good with cool, forest, or retro-style clothes.If you want to use it in spring and summer, you can choose green and match it with lighter clothes. If you're going to use it in autumn and winter, you can select coffee brown.
What makes it unique is the hand-stitched lines at the handle and the extra-convex edging shape of the bag body, which looks exquisite and retro.
In addition, it has a removable liner storage bag inside. If you like a simple internal structure, you can directly remove the liner, and the removed liner can be used as your wash bag. It is very convenient to use one bag for dual purposes.
The size of this handbag is 26cm (L) × 9cm (W) × 24cm (H). Of course, if you want to use it as a shoulder bag, you can adjust the length of the long shoulder strap, and it will look more lively when you cross it diagonally.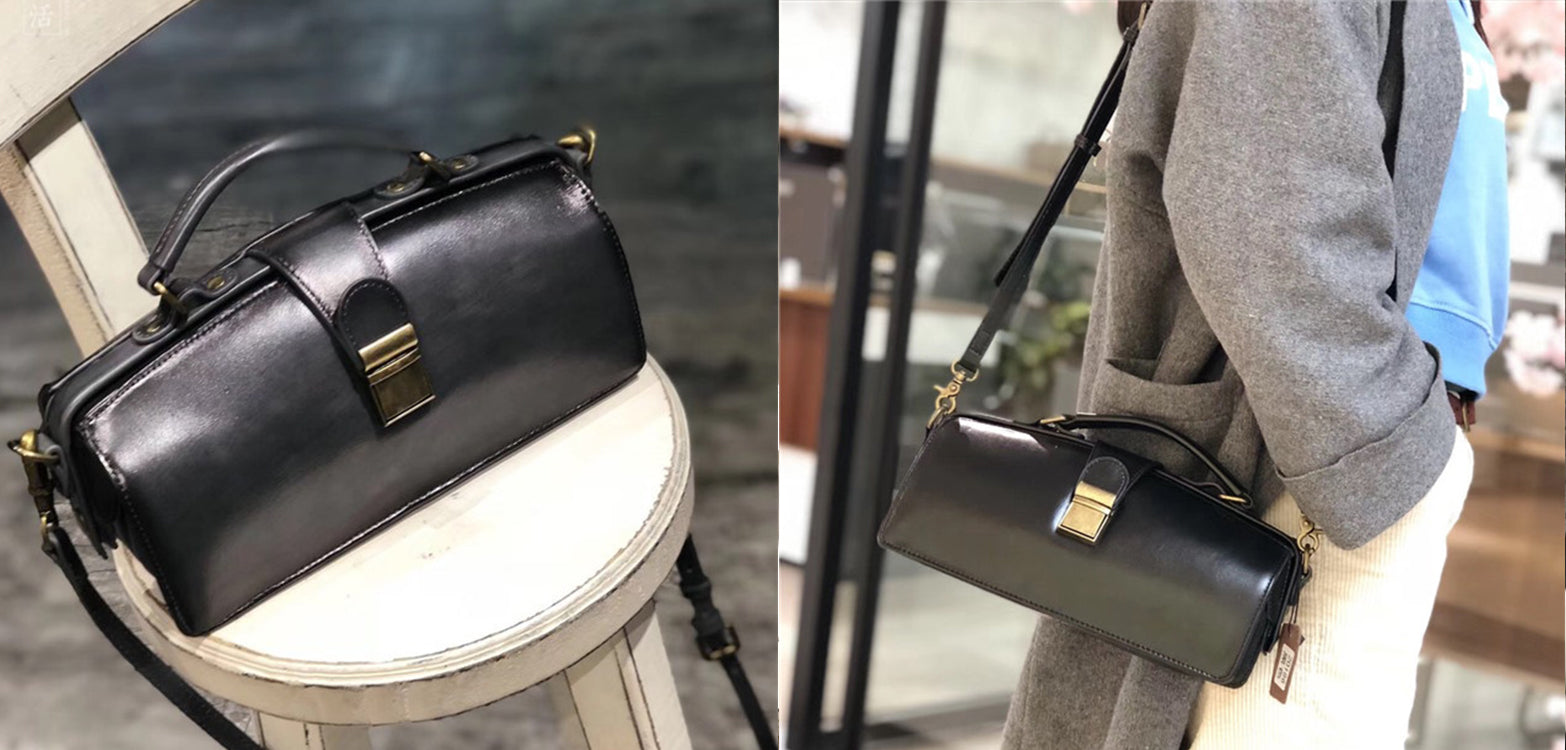 19-Women's Leather Handbags Doctor Satchel Purse Small Shoulder Bags for Women
The most prominent feature of the doctor bag is that it is easy to take things with a large opening. Open the top pocket, and the inside is explicit at a glance, making it easier to store our various small items. Its shape and lines are simple. If you choose the commonly used black or brown, it can match your formal suit in the workplace. In addition to the inherent retro atmosphere of the doctor bag, we usually use this bag to match our Vintage coats, and cotton and linen skirts are all excellent choices.
The size of this bag is 27.5cm(L)×11cm(W)×11.5cm(H). There are many colors to choose from, besides black and brown, there are also red, yellow, gray, brown, etc. I believe in There is a color that suits you.



20-Small Womens Leather Handbags Over the Shoulder Purse for Women
The last handbag is also the most different temperament compared to the previous one. Manufactured from hand-dyed top-grain cowhide, it has a retro, elegant, and romantic feel, as well as the free and easy shape of a stray bag.
By adjusting the shoulder strap length, you can carry this bag on one shoulder or by hand. Its dimensions are 20cm(L) x 9cm(W) x 16.5cm(H), with a zipper pocket and a slip pocket inside.
This bag adopts the simple shape of the arc, and if you look at the leather and details carefully, you can't put it down. The edge connection of the bag is designed with the same color cover, the top zipper of the bag is reinforced with double-layer cowhide leather, the shoulder strap is tightly stitched, and the length of the shoulder strap is adjustable on both sides. The details show the exquisite quality of this handbag, and this is a classic style that can be used for many years, regardless of age or identity, if you want to give it away or use it yourself.

Have you found the right handbag for you?
You can click on the picture to see more details of the bag. Hope the 20 leather handbags shared above can help you solve some problems.